Click here for the Snoball Property NI 43-101 technical report.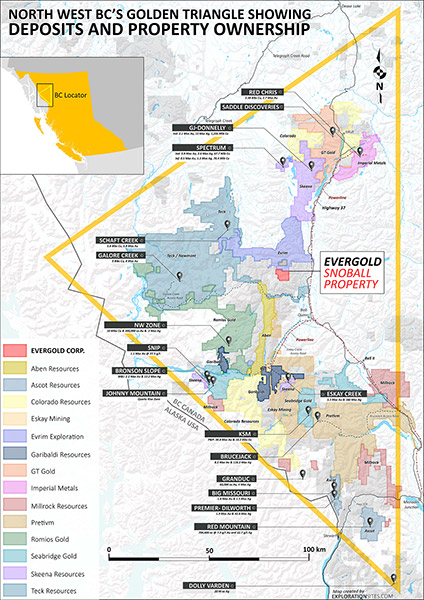 The 100% owned, helicopter access, 3,545-hectare Snoball property is drill-ready and offers near-term discovery potential. Located in the heart of British Columbia's famed Golden Triangle, only 12 kilometres from highway 37, we believe we've found the source of a large, strong, gold-silver anomaly, up-slope of previous work, and intend to be the first to drill it.
Interpreted as an intrusion-related system, at Snoball a body of diorite has been emplaced along the northwest-trending, faulted contact between Stuhini Group sedimentary rocks to the west, and Hazelton Group volcanics to the east. Styles of mineralization include high-grade vein-hosted gold+/-silver, replacement/skarn, and intrusion-related bulk tonnage.
Historical work including geochemical sampling and drilling by Noranda in 1992 (12 diamond drill holes for 1,500 metres) took place at low elevations on this property. Our initial evaluation of historical sampling suggested the actual source of a strong multi-element anomaly was up-slope to the north, at higher elevations well above the areas historically drilled. Our sampling (2016, 2017, 2018) of new areas up-slope strongly reinforced this hypothesis.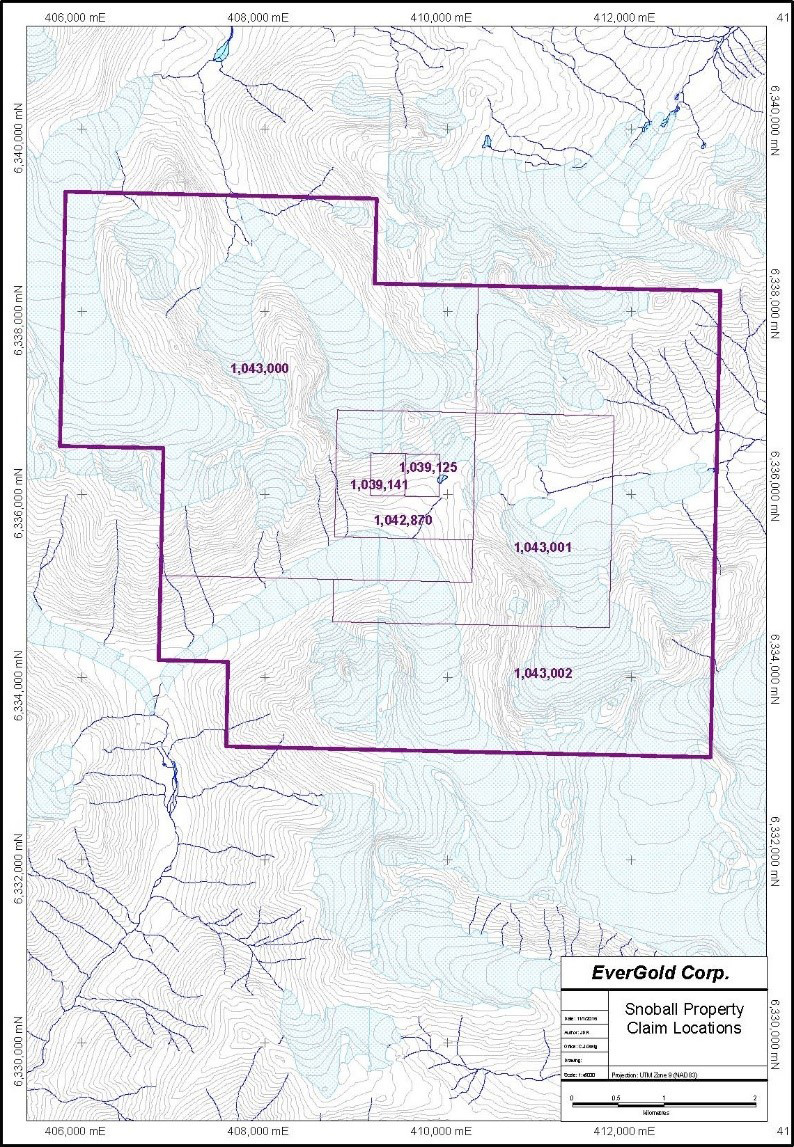 Reanalysis of the historical Noranda drill results also points to a strengthening of values in mineralized hornfelsed sediments from south (e.g. hole 92-11 – values generally <100 ppb Au), to north (e.g. holes 92-7 and 92-12 – values generally averaging in the hundreds to (occasionally) thousands of ppb Au).
Key drill pads have already been constructed on Pyramid Peak and the next step is to drill (Summer 2020).
Assessment reports for historical (i.e. pre-Evergold) work carried out on the Snoball property can be downloaded by searching "Snoball" in the BC Government Assessment Report Indexing System (ARIS) database at: https://aris.empr.gov.bc.ca/