Early Days on a New, High-Grade, Gold-Silver Vein System
Click here for the Snoball Property NI 43-101 technical report.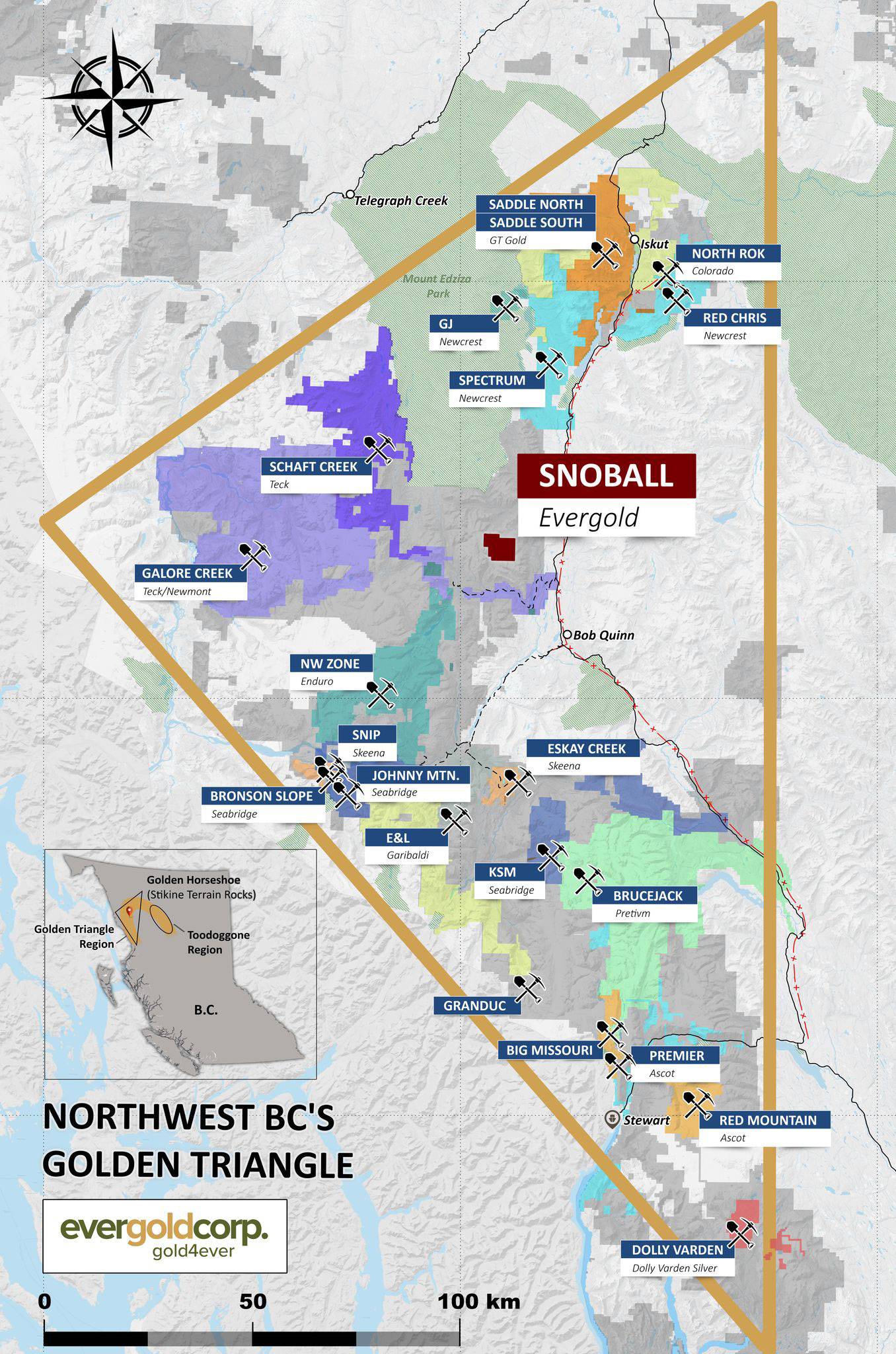 The 100% owned, helicopter access, 3,545-hectare Snoball property hosts a new high-grade gold-silver epithermal vein discovery achieved by the Company in 2020 (see news, August 18, 2020), within and below Pyramid Peak and Snoball Ridge. Located in the heart of British Columbia's Golden Triangle (image, right), only 12 kilometres from highway 37, the Company was led to the discovery through a combination of geochemistry and re-evaluation of historical work carried out to the south of Pyramid Peak, at much lower elevations, by Noranda in 1992. It was precisely this type of high-grade vein system discovery upon which the early fame of the Golden Triangle was built.
Interpreted as an intrusion-related system, at Snoball a body of diorite has been emplaced along the northwest-trending, faulted contact between Stuhini Group sedimentary rocks to the west, and Hazelton Group volcanics to the east. Styles of mineralization include high-grade vein-hosted gold+/-silver and replacement/skarn.
Evergold's first round of drilling, carried out in 2020 (2,799 metres drilled in 13 holes), took place entirely from the so-called 'Apex' drill pad located atop the 2,000 metre+ summit of Pyramid Peak. The Apex pad, located as it was, allowed for the drilling of holes to all azimuths, thereby providing crucial geological information.
Drill results from the 2020 program included intercepts such as 20.8 g/t Au & 54.54 g/t Ag over 0.70 metres from 134.30 to 135.00 metres in hole SB20-006, and 12.90 g/t Au and 54.24 g/t Ag over 1.44 metres from 47.75 to 49.19 metres in hole SB20-005.
A second, limited round of approximately 400 metres of drilling was carried out in 2021, targeting, from new pads, areas immediately downslope to the southwest of the 2020 drilling. Massive sulphide (arsenopyrite, pyrite) veins identified and sampled late in 2020, along with several sedimentary rock units containing disseminated arsenopyrite, suggested this area could represent core areas of the Pyramid Peak mineralized system. Drill contractor crew shortages resulted in a very late start to the program and, consequently, completion of only about a fifth of the drilling metres originally planned.
Nonetheless, given the considerable lateral and vertical extent of the Pyramid-Peak / Snoball Ridge mineralized system, as demonstrated by the high elevation of the discovery and the known presence from Noranda's work of high-grade veins more than half a kilometre to the south and a similar distance in elevation below, the Company believes the Snoball prospect continues to hold strong promise for future field seasons.