High-Grade Epithermal gold-silver in Nevada's Walker Lane Trend
Early in 2021 (see news, January 11, 2021) the Company signed a Letter Agreement for an option to purchase, over five years, 100% of the Rockland property, including the past-producing Rockland Mine and adjacent exploration claims, located in the Walker Lane geological belt of western Nevada. The property is highly complementary to the Company's B.C. properties for deposit type, drive-on access, and ability to be worked year-round. Importantly, the property hosts a large, robust, low-sulphidation epithermal gold-silver vein system with many if not all of the important geological characteristics associated with bonanza-grade epithermal deposits elsewhere in Nevada at the Midas (Ken Snyder) and Sleeper mines, among others.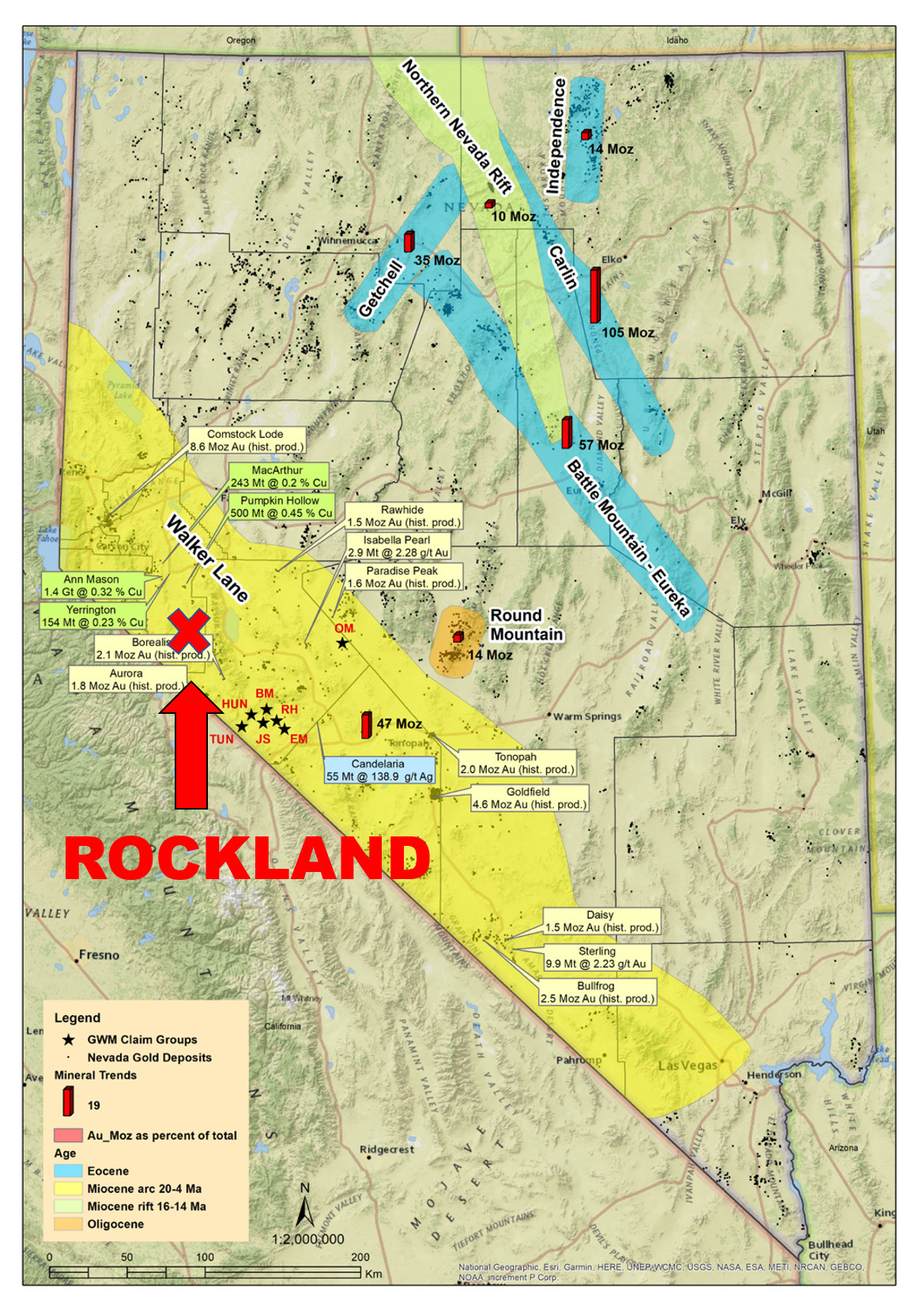 On the property two target areas are of interest: Rockland Mine, and Rockland East. Significant high-grade and bulk tonnage potential remains in the vicinity of the Rockland Mine (maps below). However, it is Rockland East that has drawn the Company's particular attention (maps below). At Rockland East, an extensive lower-tenor gold zone encompassing intervals of moderate to high grade has been partially outlined in drilling by previous operators over approximately 800 metres of strike length, at moderate depth. In this broad zone, strongly elevated pathfinder elements including As, Sb and Hg, suggest that it may represent the low-grade halo to a core of much high-grade, 'bonanza-style' veining, similar to those seen at the Sleeper and Midas mines.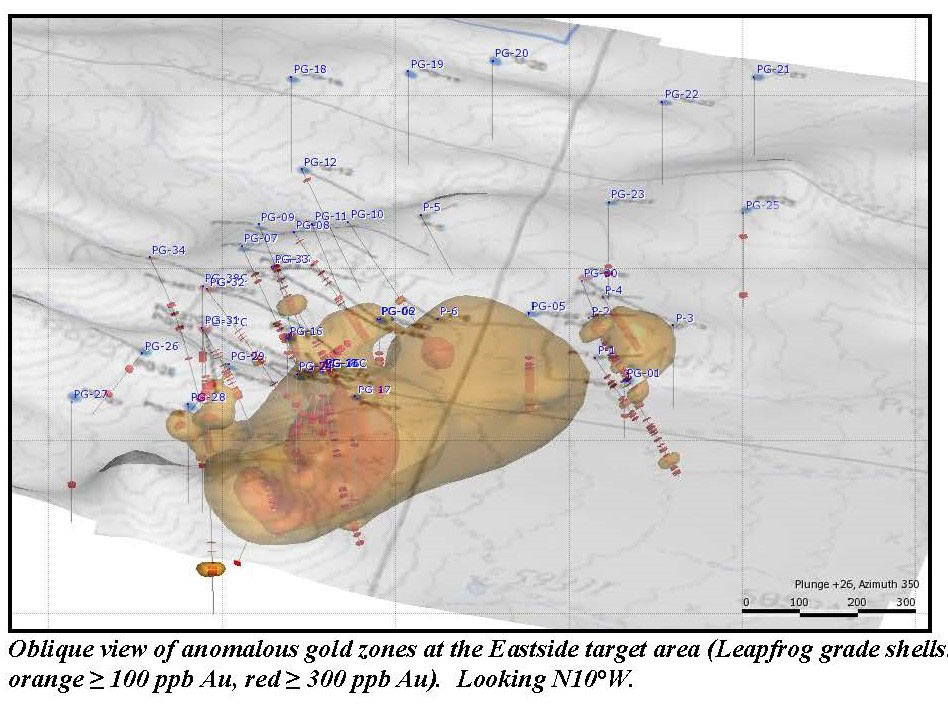 In 2021, a high resolution, drone-borne magnetic survey was completed over the entire Rockland claim block, along with reinterpretation of historical IP and CSAMT surveys, and extensive new sampling of soils and rock. This work has fed into drill planning, permitting for which is underway.
About the Rockland Property
The Rockland property is located approximately 25 miles south of the town of Yerington in western Nevada, along the northern portion of the Walker Lane trend. The property consists of 71 unpatented claims encompassing 594 hectares, and is underlain by a large, robust, low-sulphidation, quartz-adularia epithermal gold-silver system with excellent potential for the expansion of known zones of mineralization, and the discovery of new ones.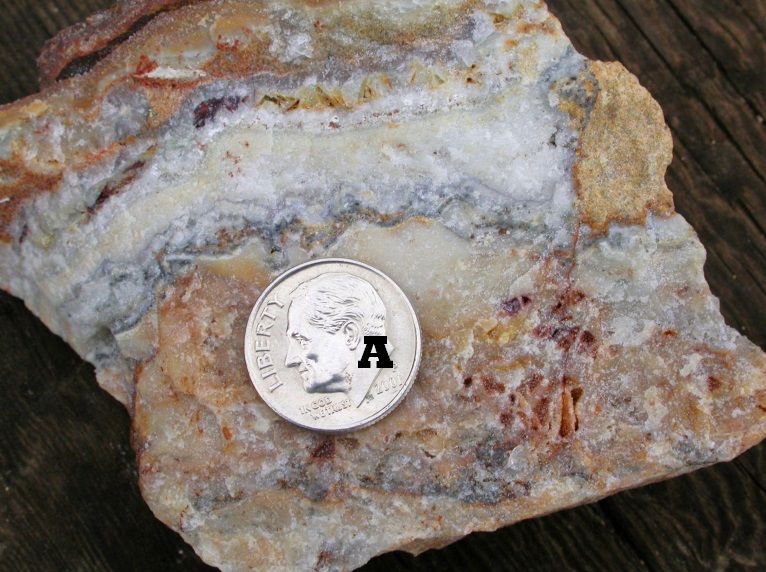 Mineralization on the property is spatially and genetically associated with Late Miocene-age rhyolite intrusive activity and occurs in intensely altered rhyolites, associated sedimentary rocks, and pre-Tertiary granodiorite. The best gold grades are associated with quartz veins and rhyolite feeder dikes that cut the basement granodiorite at the Rockland Mine. Alteration and mineralization is primarily controlled by NNE- to NE-trending structures which are common orientations of the high-grade veins at Aurora and Bodie. The strong association of gold mineralization with shallow rhyolite intrusions also suggests comparisons to the Sleeper and Midas high-grade vein districts elsewhere in Nevada.
Five companies - BHP, Hecla, Inmet, Romarco and B2Gold - explored the property between 1987 and 2019, drilling 78 holes totaling 50,385 feet. Many of the holes bottomed in mineralization.
Rockland Mine Target Area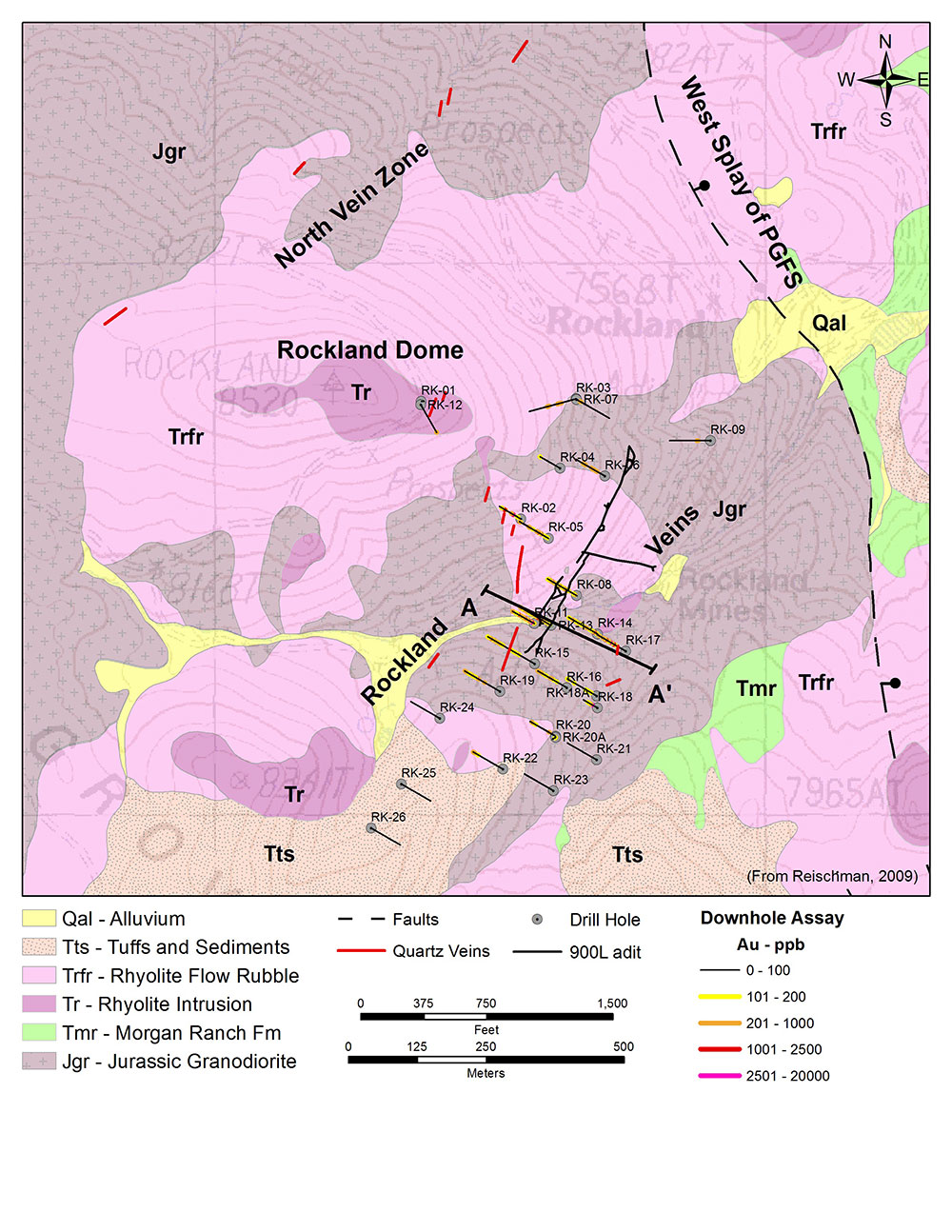 The historic Rockland Mine is located within the western portion of the property. Production between 1870 and the late 1930's was largely undocumented but is estimated by the Geological Society of Nevada to have approximated 50,000 ounces of gold and silver, with grades as high as 2.8 opt gold equivalent (96 g/t AuEq). The Rockland Mine area has yielded surface values up to 50.9 g/t Au and 1,758 g/t Ag, and underground values up to 91 g/t Au. Stopes along the Rockland Mine adit level are reported to be several feet wide and semi-continuous for nearly 1,000 ft. along strike, and up to 1,400 feet down dip.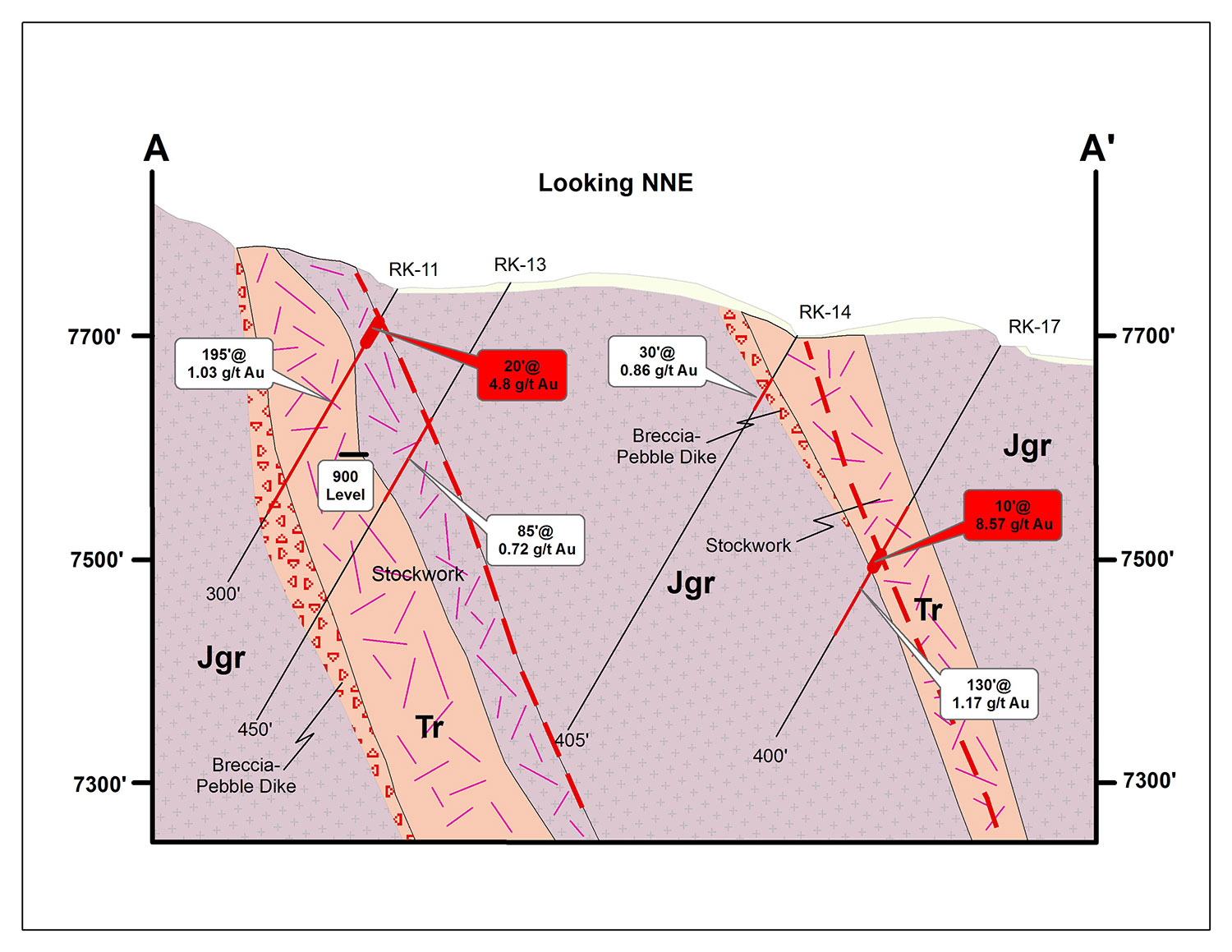 In the vicinity of the Rockland Mine, drilling by BHP in the late 1980s returned relatively shallow, broad intercepts of low-grade mineralization encompassing intervals of higher grade (true widths unknown), including:
39.6 metres of 1.16 g/t Au including 3.1 metres of 8.56 g/t Au in BHP hole RK-17;
59.4 metres of 1.03 g/t Au including 6.1 metres of 4.80 g/t Au in BHP hole RK-11; and
67.1 metres of 0.34 g/t Au in BHP hole RK-8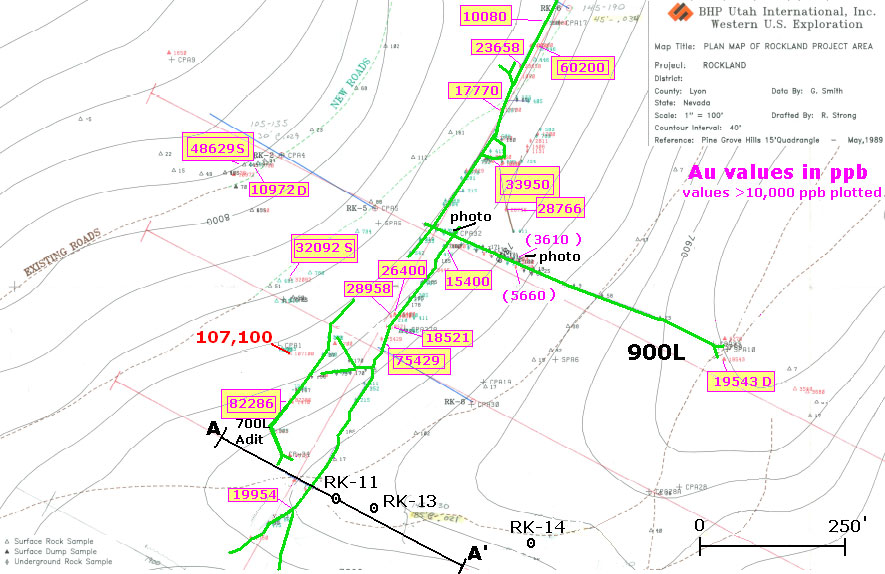 Much of the approximately 1 kilometre strike length of the Rockland Mine en echelon vein system remains untested for high-grade mineralization, particularly below the Rockland Mine adit level. A hole by B2Gold in 2018 intersected a vein with 5.08 g/t Au and 354 g/t Ag over 1.5 metres in hole RK18-27, which is interpreted as the down-dip extension of the main vein historically mined.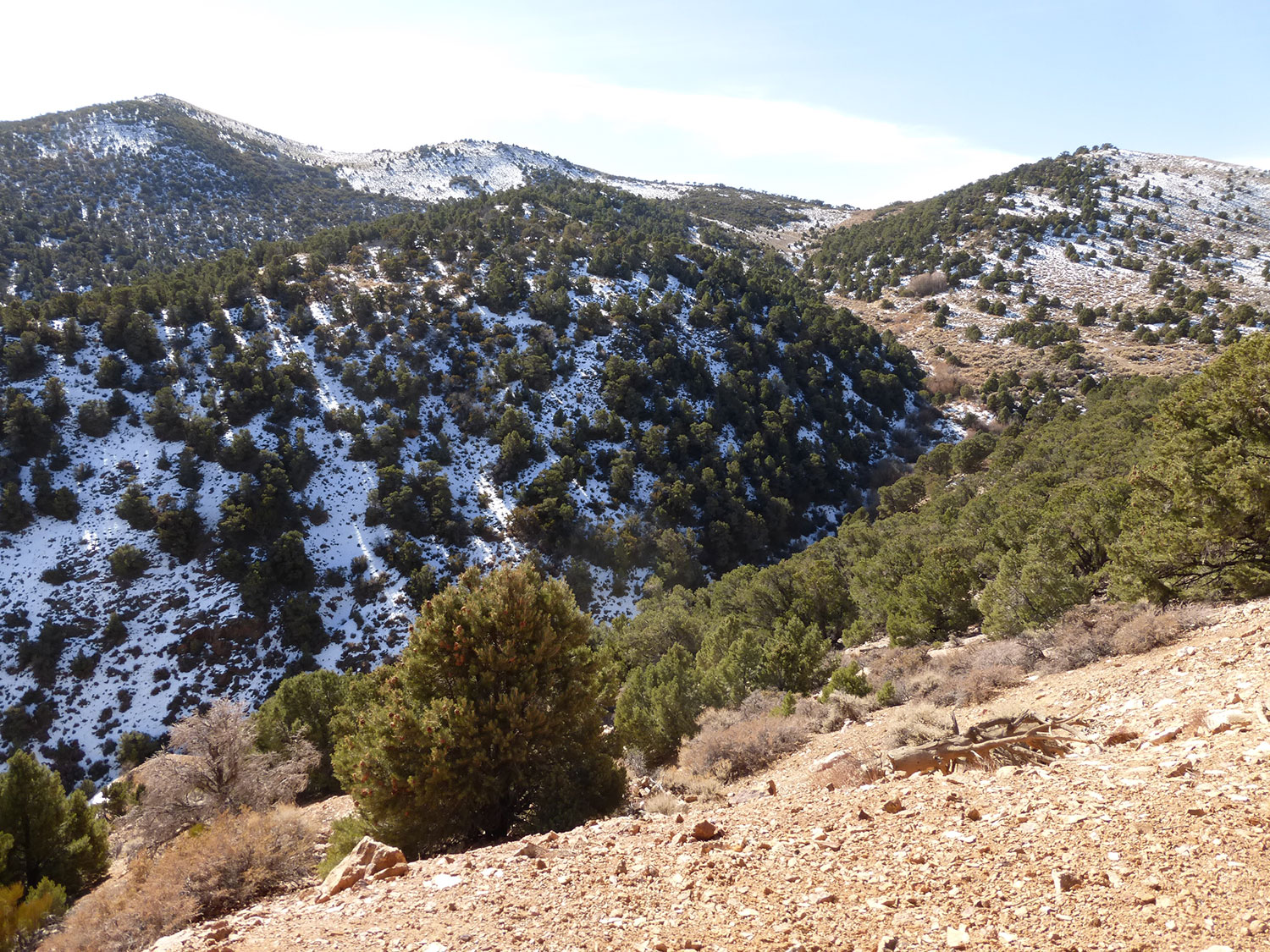 Rockland East Target Area
Historical drilling confirms a large low-grade gold zone at moderate depth at Rockland East, with broad lower-grade intercepts commonly encompassing narrower intervals of higher grade. The geometry of this zone is still poorly understood. Map relations coupled with abundant associated pathfinder elements (particularly As and Sb) characteristic of the upper levels of low sulphidation systems found at Nevada mines such as Sleeper, Hollister and Midas, and El Penon in Chile (all +1.5 Moz deposits), indicate that the Rockland East target area is down-dropped relative to the Rockland Mine area western block, and that the entire epithermal system in this area may be largely preserved. If so, a 'boiling zone' encompassing high-grade 'bonanza-style' veins could lie below the low-grade halo or cap above.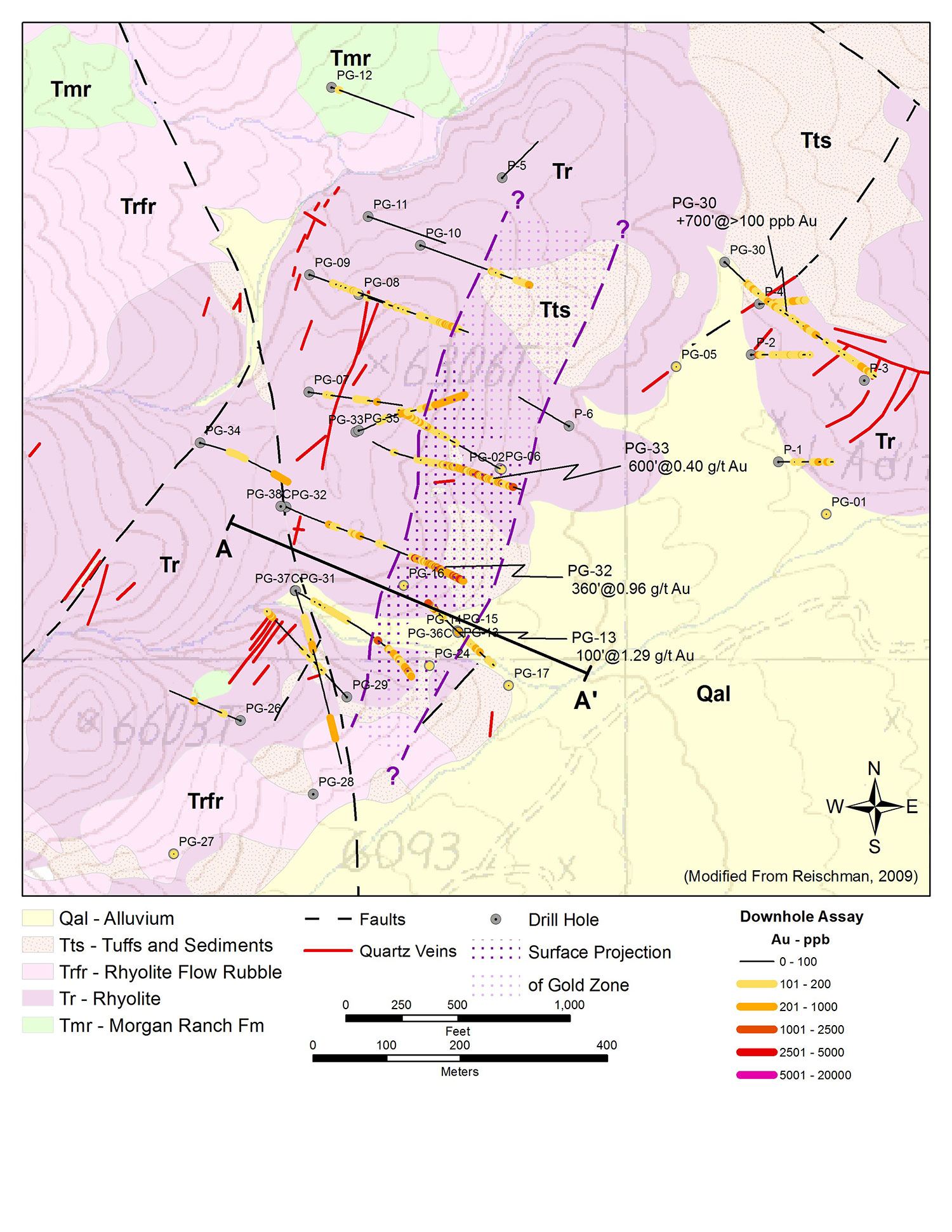 Significant Rockland East historical intercepts include (true widths unknown):
30.5 metres of 1.29 g/t Au including 3.1 metres of 6.13 g/t Au in Inmet hole PG-13;
16.8 metres of 1.05 g/t Au and 9.1 metres of 2.82 g/t Au including 1.5 metres of 9.20 g/t Au in Inmet hole PG-15;
109.7 metres of 0.96 g/t Au including 12.2 metres of 1.88 g/t Au in Romarco hole PG-32;
182.9 metres of 0.40 g/t Au in Romarco hole PG-33; and
59.4 metres of 1.09 g/t Au including 3.1 metres of 19.80 g/t Au in Romarco hole PG-36C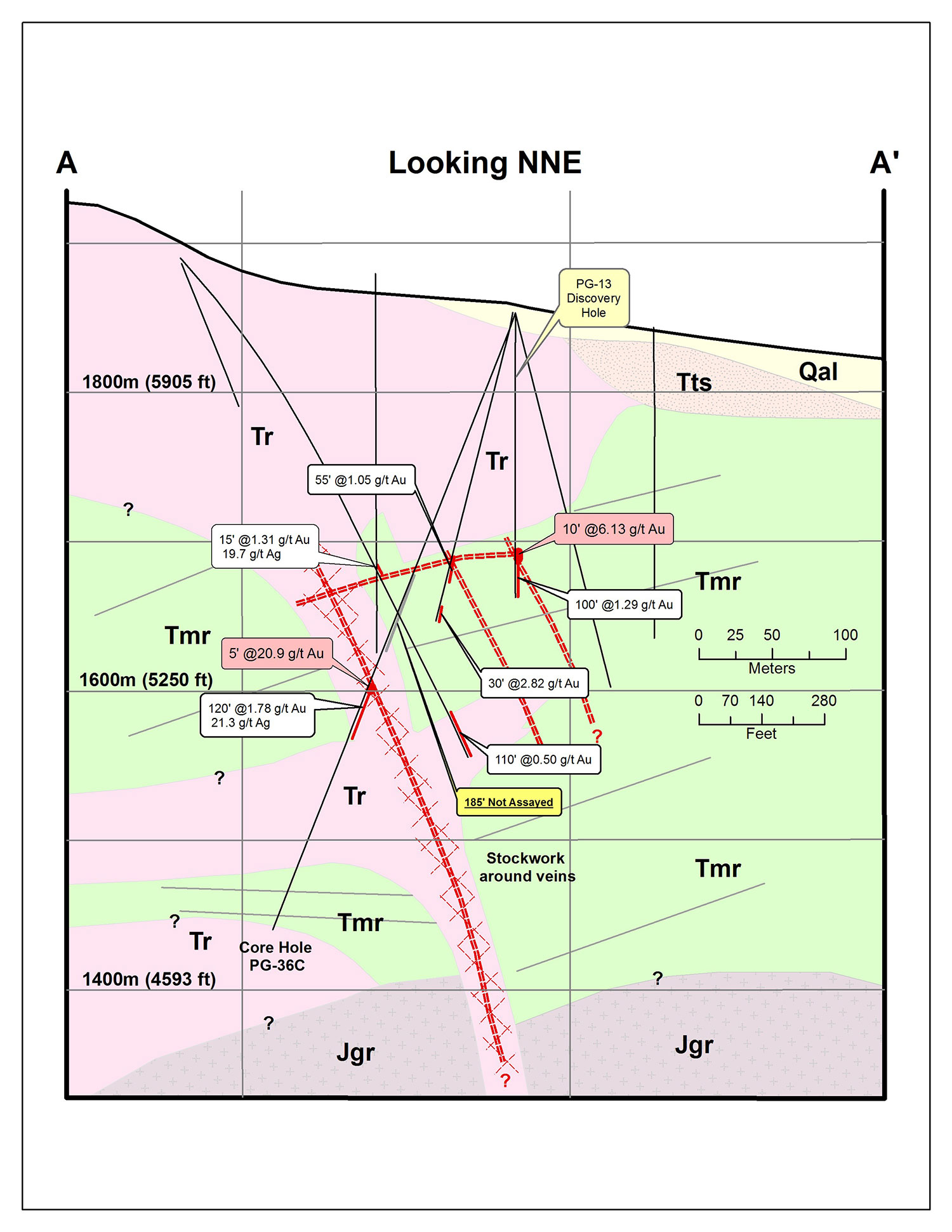 As at the Rockland Mine area, many of the Rockland East holes bottomed in gold mineralization.
Other target areas with anomalous surface geochemistry occur on the property and have had little or no drilling, including an area with high grade vein boulders containing up to 30 g/t Au and 140 g/t Ag.
Terms of the Letter Agreement
Under the terms of the Letter Agreement, the Company will have the right to earn a 100% ownership interest in the Rockland property in exchange for staged outlays to Enigma over five years which cumulatively total US$805,000 cash and 500,000 common shares payable in installments as set out below, in addition to escalating work commitments of US$1,675,000 over the same time frame, and a 3% Net Smelter Returns royalty granted to Enigma, two percentage points of which can be bought back by the Company for an aggregate of US$3 million, with a right of first refusal granted to the Company by Enigma to purchase the remaining one percentage point.
Schedule of Cash and Share Payments:
| | |
| --- | --- |
| DATE | PAYMENT (US$ & Shares |
| On signing | $5,000 |
| On TSX Approval of Transaction | $35,000 and 40,000 shares |
| January 1, 2022 | $40,000 and 40,000 shares |
| January 1, 2023 | $50,000 and 45,000 shares |
| January 1, 2024 | $75,000 and 100,000 shares |
| January 1, 2025 | $100,000 and 275,000 shares |
| January 1, 2026 | $500,000* |
| TOTAL | $805,000 and 500,000 Shares |
*the final $500,000 payment may be made in cash, shares or any combination thereof, at the discretion of Evergold, based on a price per share equal to the greater of $0.30 or the twenty-day volume weighted average price of the shares on the TSX Venture Exchange.
Schedule of Work Commitments:
Evergold will be required to incur a minimum of US$1,675,000 in exploration expenditures as follows:
US$75,000 on or before January 1, 2022

US$175,000 on or before January 1, 2023

US$250,000 on or before January 1, 2024

US$1,175,000 on or before the later of January 1, 2025, or 18 months from the receipt of drill permits, and to include drilling (with assaying costs) that includes 5,000 feet in the Rockland Mine area and 15,000 feet in the Rockland East target area.