Early Days on a Large New System. We Know Precisely Where to go Next
A comprehensive NI 43-101 Technical Report is available for the Golden Lion property from the Company's website at www.evergoldcorp.ca and from its profile at www.sedar.com.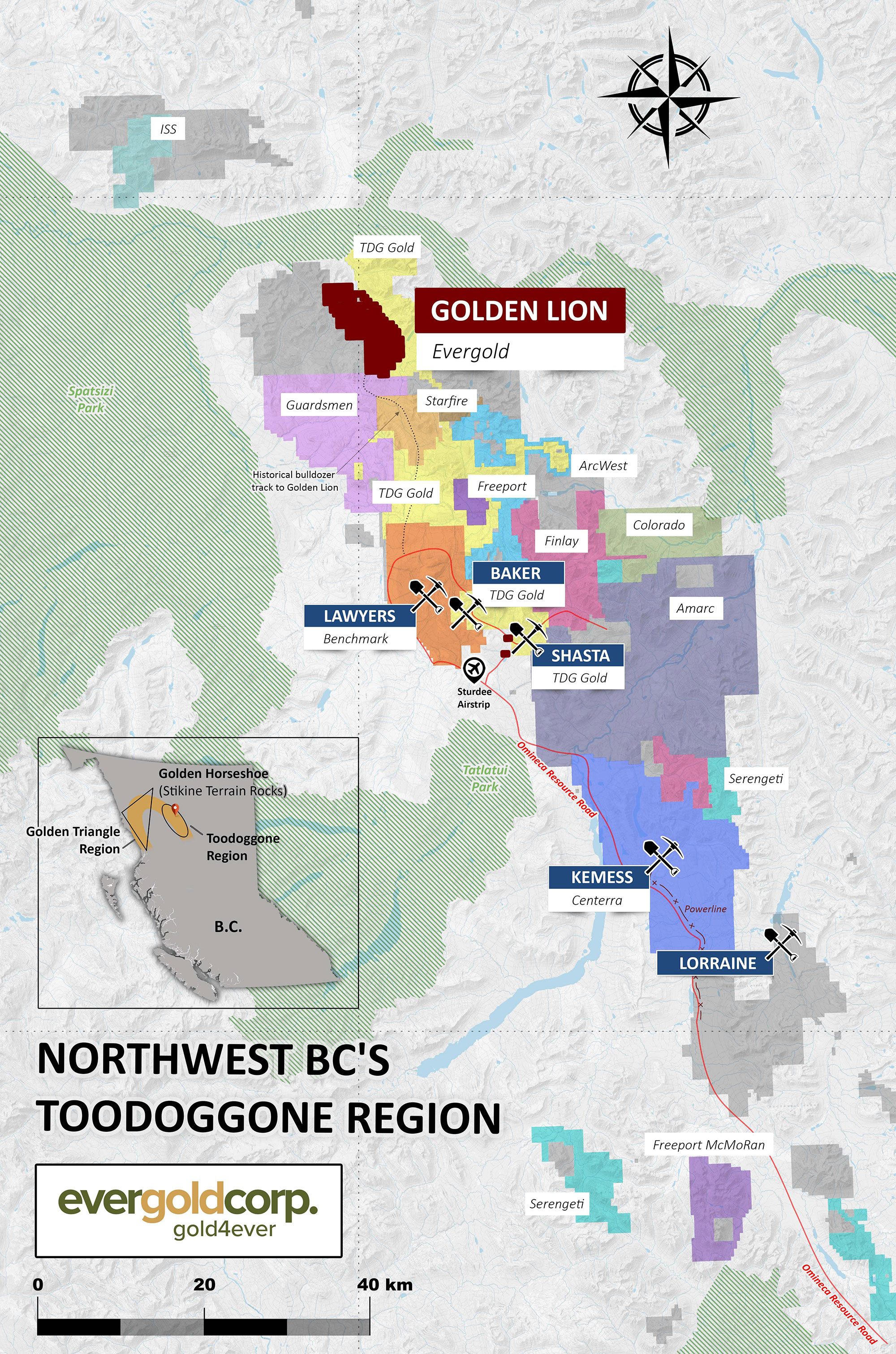 The 100% owned, helicopter accessible, 5,099-hectare Golden Lion property hosts the large, near-surface, 'GL1 Main' epithermal gold-silver system, which drilling by the Company in 2020 (1,647 metres in 10 holes) confirmed exhibits both bulk-tonnage and high-grade vein styles of mineralization, and geophysics and geochemistry strongly suggests offers considerable near-term upside in the depth dimension, as well as along strike. The property is located in the Toodoggone region of northcentral British Columbia, approximately 70 kilometres northwest of Centerra's Kemess copper-gold mine, and 24 kilometres north of Benchmark's Lawyers project. It was previously held and drilled (2,475 metres in 22 holes) by Newmont during a time of declining gold prices in the mid-1980s.
As announced November 30 (see selected assay results below), drilling completed by the Company on the GL1 Main target during the 2020 field season returned broad assay intercepts of gold and silver-bearing epithermal-style mineralization, with local higher-grade intervals, suggestive of the upper part of the system and comparable to the historical Newmont drill results. Importantly, and unknown at the time to Newmont, this generally low to locally moderate-grade shallow mineralization is associated with coincident induced polarization chargeability and resistivity responses that increase with depth below current drill intercepts. The geophysical data (see two representative drill sections, above right) clearly shows that all drilling to date that occurred directly on the GL1 Main zone, both historically by Newmont (9 holes) and this year by Evergold (10 holes), has tested only the shallower, weaker geophysical response, and indicates that potentially stronger mineralization, and higher grades, may lie directly below, in association with the higher-tenor geophysical response.
GL1 Main - Drilling Highlights: Broad gold-silver vein zone (>100 metres true width) intercepted in multiple holes along a 500-metre strike length inclusive of Evergold and historical Newmont drilling; open along strike and to depth. Results include:
53.21 metres at 0.75 g/t Au from 7.52 to 60.73 metres in hole GL-20-002

Including 19.00 metres of 1.61 g/t Au from 35.10 to 54.10 metres

73.82 metres of 0.50 g/t Au from 5.38 to 79.20 metres in hole GL-20-003

Including 7.60 metres of 2.78 g/t Au from 55.40 to 63.00 metres

61.70 metres of 0.76 g/t Au from 6.80 to 68.50 metres in hole GL-20-006

Including 17.50 metres of 1.51 g/t Au from 42.50 to 60.00 metres

73.12 metres of 0.69 g/t Au from 4.88 to 78.00 metres in hole GL-20-008

Including 8.39 metres of 1.72 g/t Au from 27.70 to 36.09 metres
Notably, all holes cased into mineralization at surface and all holes carried intermittent gold and silver values down-hole well beyond the significant intercepts cited, and did not fully exit the GL1 Main zone at depth.
The size of the GL1 system, and how well it is expressed in all the geochemical and geophysical parameters, is noteworthy. The soil geochemical anomalies (see geology plan view, right) emphasize the strike extent of the near-surface part of the system (two +500 metres long sub-parallel trends), and these coincide with both elevated resistivity and chargeability at depth (see resistivity and chargeability plan views, right). The drill sections and their broad Au-Ag-enriched intersections help to emphasize the broad width of the mineralizing system, and the accompanying IP inversions show that the system has legs to depth. This is also the case along trend, where drill-testing is even more sparse than at GL1 Main, and Newmont's previous drill intersections, and the similar geophysical and soil geochemical responses, are suggestive of similar depth potential.
The Company's technical team is working with the data already received and will be finalizing plans for drill-testing along trend and deeper in the forthcoming 2021 drill season.