The 100% owned, drive-on road access, 1,573-hectare Spanish Lake property offers near-term discovery potential. Located in central interior British Columbia east of Williams Lake and approximately 5 kilometres southeast along strike from the multi-million-ounce Spanish Mountain gold deposit, the Spanish Lake property has excellent potential for a sediment-hosted vein gold system akin to that at nearby Spanish Mountain.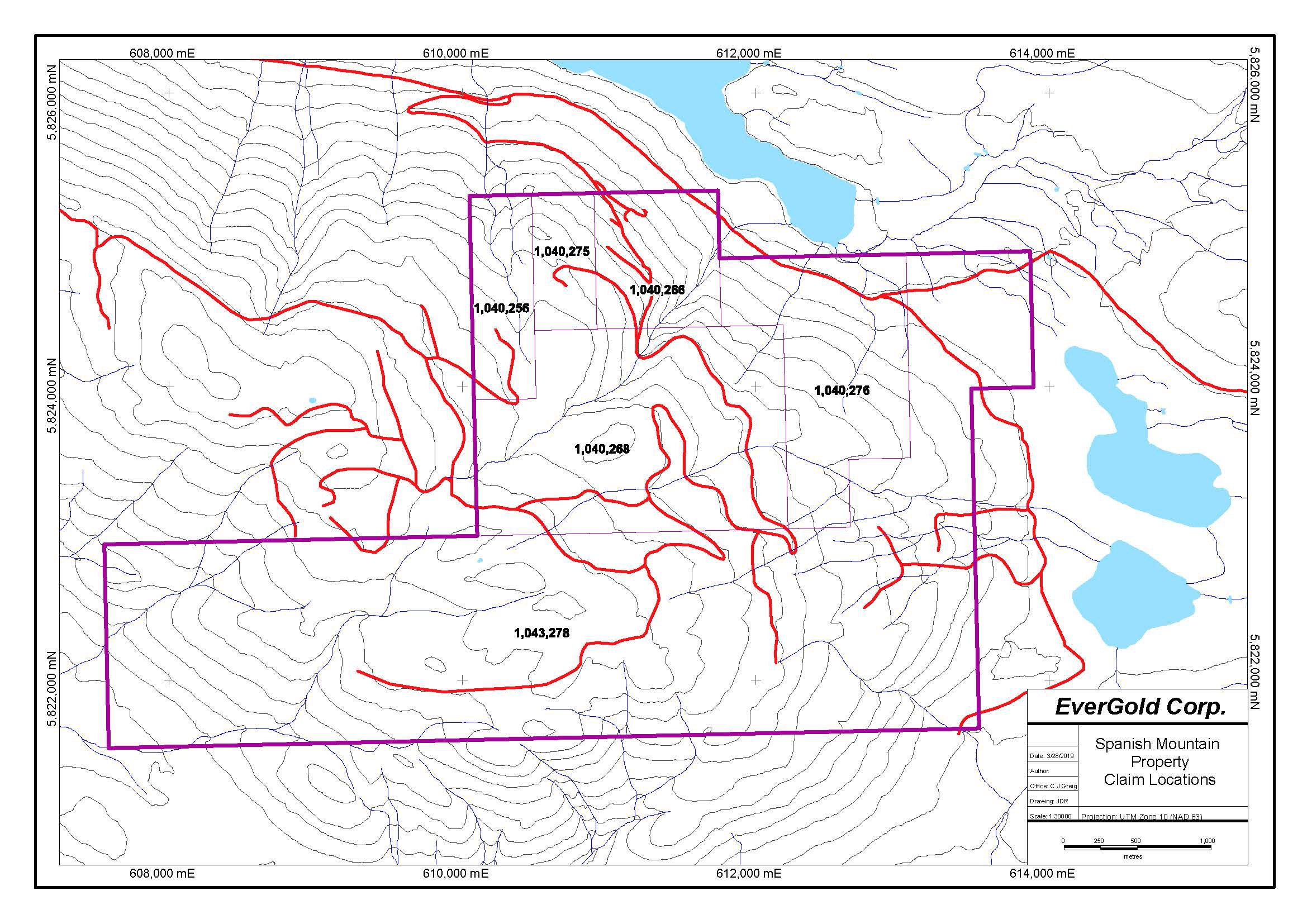 Commencing in 2007, a previous operator identified several areas of precious metal and pathfinder element enrichment along 1,500 metres of strike in favorable geology, specifically the Nicola Group black phyllite, carbonaceous shale to graphitic mudstone and siliceous siltstone, and exhibiting alteration and structural features similar to that seen at Spanish Mountain.
Follow-up drilling in 2011 (12 NQ2 diametre holes for 2,484 metres) intercepted long intervals of low-grade Spanish Mountain-style gold (i.e. sediment-hosted, with abundant microstructures and veining), suggesting a potentially large zone of gold mineralization. Best results were achieved from the most southerly group of holes, with AD1-2011-7, 8, 11 and 12 each ending in mineralization, and the two southwestern-most holes AD1-2011-11 and 12 returning long intervals of 92 and 85.2 metres respectively. True thicknesses are not yet known. The results suggest that only the fringes of the newly discovered zone have been tested.
Facing a major industry downturn, the prior operator walked away from the property without filing an assessment report. In 2016 Evergold acquired the property, expanded its size and, in 2017, completed a report on the 2011 work.
As grade and intersection lengths increase to the south and west in the southern 2011 drill pattern, a program of induced polarization (IP) geophysics, possibly coupled with auger geochemical sampling, will target this under-explored, till-covered area. If results of this work are encouraging, drilling will follow.